Following a renewed interest and popularity in the game of bowls around the turn of the 20th century, a number of clubs were formed in Tunbridge Wells and the surrounding area. By 1908 the great and growing need for a new bowling green in Tunbridge Wells was recognised by the bowling fraternity. The increasing popularity of the game, and the demand for a green in a central area of the town justified the search for a suitable location.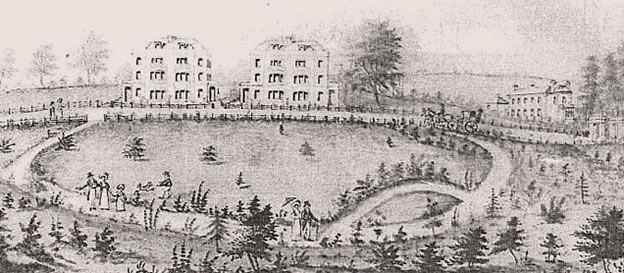 A few bowlers and business men surveyed the town and identified an ideal spot in the Grove Hill Road area. The site, largely covered by trees and undergrowth, needed clearing but they wisely decided to leave a natural belt of trees and hedges which would provide the green with both privacy and beauty.
On 1st January 1909 the work of preparing the ground was commenced. A number of enthusiastic bowlers gave proof of their prowess with the axe as well on the green and on a cold and frosty morning these hardy emulators of the great W E Gladstone might have been seen felling birch and monkey puzzle trees as only experts in the art can do. The work progressed exceptionally well and the green was opened on Wednesday on 30th June 1909 in the presence of the Mayor and many other local dignitaries. When we celebrated our Centenary 2 years ago we were very proud that, on a patch of land rescued from a wilderness, the quintessentially English game of bowls has been played every year, in times of war and peace, for a century. Our Club has made its mark on Tunbridge Wells and on those fortunate enough to have visited and played here.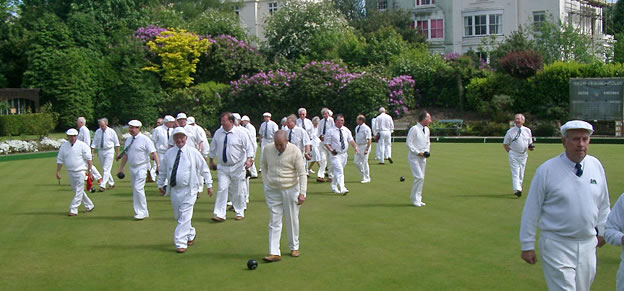 Our Present
We have a very comfortable Clubhouse with changing rooms for men and women and there is a bar selling a wide range of drinks at reasonable prices. The green is surrounded by flower beds, lawns and hedges making the club quite private. Our car park can accommodate about 25 cars.
Our green opens around the third week in April and closes in mid-September. During this period playing members can play each afternoon and evening without paying a green fee. There are various club competitions that members can enter. We play weekend matches, at home and away, against other local clubs These games are usually followed by a light meal.
During June, July and August there are Wednesday evening games against other clubs. We also enter two teams in the Tunbridge Wells Triples League, played on Thursday evenings.
The Club is well known for its social activities which include barbeques during the summer and quizzes, race nights and card evenings in the winter months. We hold our Annual Dinner in the Autumn at which our competition winners are presented with their well-deserved trophies.
The Grove has a reputation as a very friendly club and welcomes new members of all ages regardless of whether they have previous bowling experience.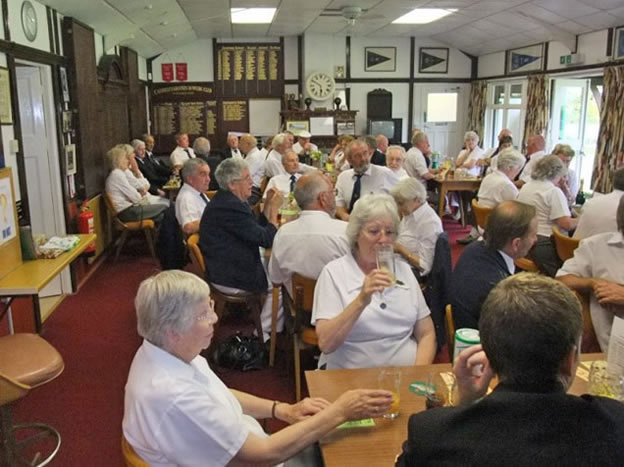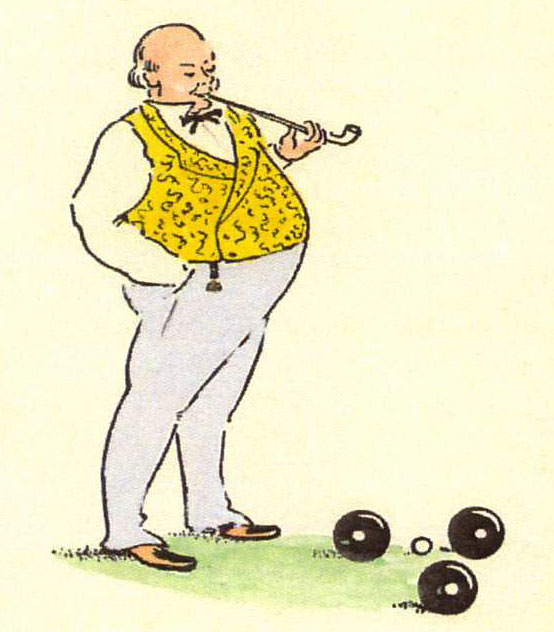 Who is this famous bowler and 'Brewer of Good Ale' from 1714?
Dick Pottinger who was Mine Host of the old Coaching Hostelry the 'Sussex Shades'. He was a famous bowler in his day and a 'Brewer of Good Ale'. Old guide books contain many references to him and he did much to foster the game in Kent and Sussex, including challenge matches for live pigs!